01340 - ELCIEGO (Álava) - 945.606.440 - 626.217.157 - info
@turismorurallacueva.com
RATES
Seasons
LOW
HIGH
Weekend:
400 €
400 €
Room / night:
45 €
55 €
Breakfast not including: 3 € by person and day
If you have been in this lodging, share your experience
WHERE TO GO
* Distances calculated in a straight line from the property


a 5Km.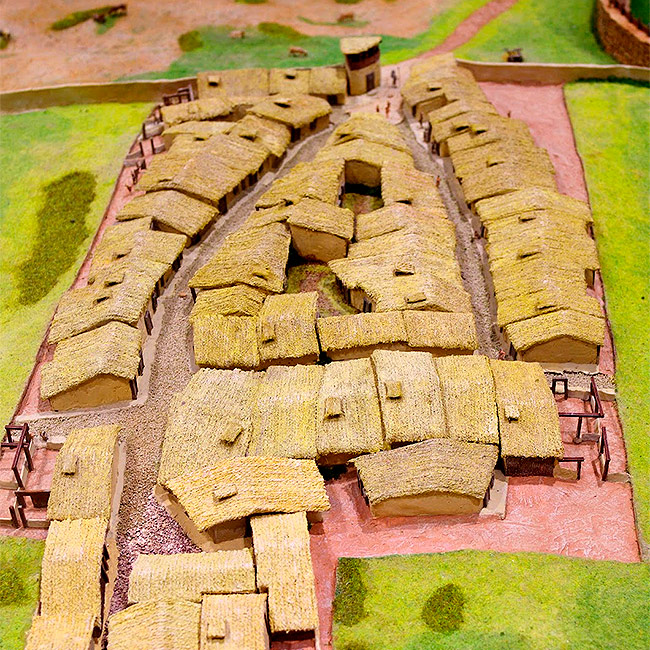 Poblado de La Hoya
Bastan las ruinas de un pueblo para conocer los entresijos de una sociedad perdida en el tiempo. Hay un museo con fotografías, dibujos, textos y una reproducción del poblado durante la II Edad del Hierro
a 13Km.

Museo de la Cultura del Vino
The Museum offers a walk through the history and culture of wine through five exhibition rooms distributed by its subject, a hall for temporary exhibitions, the Documentation Centre of the Foundation, and the collection of wines in the world.
a 15Km.

Concatedral de Santa María de la Redonda
Logroño is a charming town, among the many surprises that gives us standing out the Co-Cathedral of the Round (Concatedral de la Redona), its twins towers stand out over the city. The interior of this temple houses numerous works of art, among which it is
a 16Km.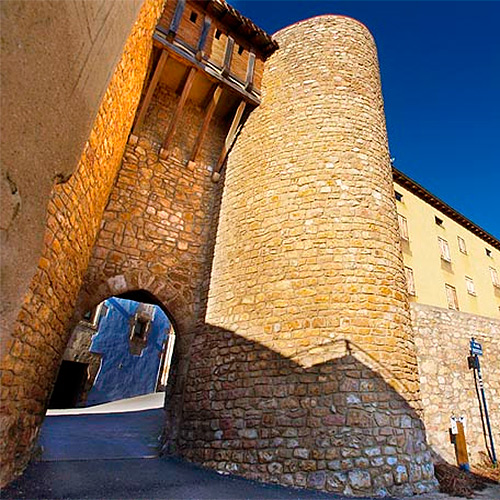 Peñacerrada-Urizaharra
Allá donde los caminos se cruzan, surgen focos de poder, fuertes amurallados y edificios señoriales. Hace tiempo que la vetusta Peñacerrada-Urizaharra, entre Álava y La Rioja, cumplió todos los requisitos.
a 23Km.

Monasterio Santa María de San Salvador
The monastery has a large courtyard. The Carmelite nuns who live here prepare exquisite sweets and confectionery monastic bakery. The Monastery of the Gothic style, is notable for presenting a header of three apses header with large ...
a 27Km.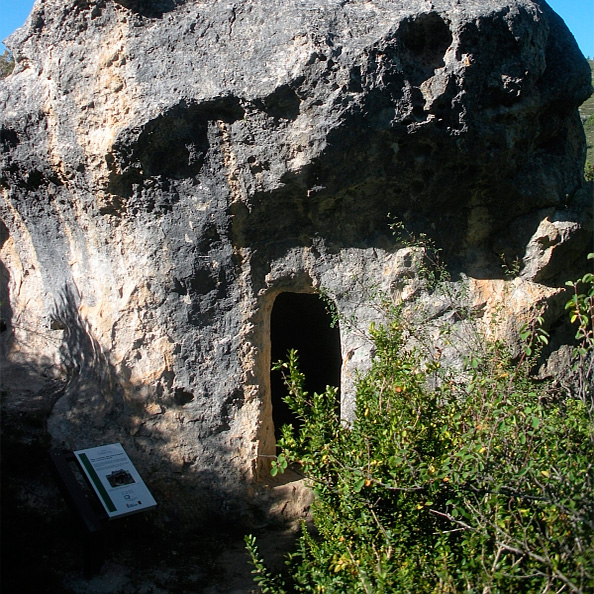 Conjunto rupestre Gobas de Laño
Visigoths hermits dug their homes and three churches in the white limestone and it is among a forest of oaks near Villanueva de Soportillo.
a 29Km.

Catedral de Santo Domingo de la Calzada
The villa of Santo Domingo de la Calzada, is the largest walled enclosure that is preserved in La Rioja.
In 1973 its old town was declared a Historical-Artistic Set, being one of the main points of the Camino de Santiago (Santiago's Path)
a 29Km.

Monasterios de Yuso y de Suso
The Yuso and Suso Monasteries are a World Heritage Site since 1997 and is commonly accepted that the Monastery of Suso is the birthplace of the Castilian language, because here Berceo Gonzalo wrote the first cult poetry in Castilian.
a 30Km.

Gargantas del Río Leza
Between the towns of Soto in Cameros and Leza of the Leza River, the river that gives its name to the last one, it runs through a deep and spectacular canyon: The Leza Gorge. Along the route of 8 kilometers we can observe an interesting colony of...
a 38Km.

Monasterio de la Virgen de Valvanera
Is one of the valleys, secluded and lush, in the foothills of the Mountain Chain Demanda, not far from the peak of San Lorenzo, the former monastery of Valvanera, place of devotion, pilgrimage and witness Rioja eleven centuries of history rises.
a 38Km.

Cuevas de Ortigosa
They are the only conditioned caves for sightseeing throughout La Rioja. But its visit is obligated not only for the caves, but by the village, where we can see the typical structure of the villages of the Sierra de Cameros that will surprise us.
a 39Km.

Iglesia de Santa María la Mayor
Ezcaray is a beautiful town that retains much of its old town and ancient network of streets, palaces and emblazoned houses, standing out above all the buildings, due to its large size, the fortified church of Santa Maria
a 40Km.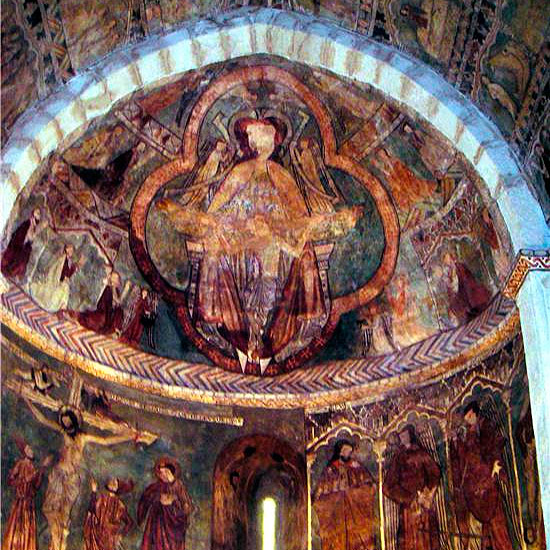 Pinturas Góticas de Gazeo
No hubo que mover losas ni descifrar códigos secretos para descubrir las valiosas pinturas de esta iglesia de San Martín de Tours en la localidad de Gazeo. Siete siglos después de su creación, siguen desprendiendo luz.
a 40Km.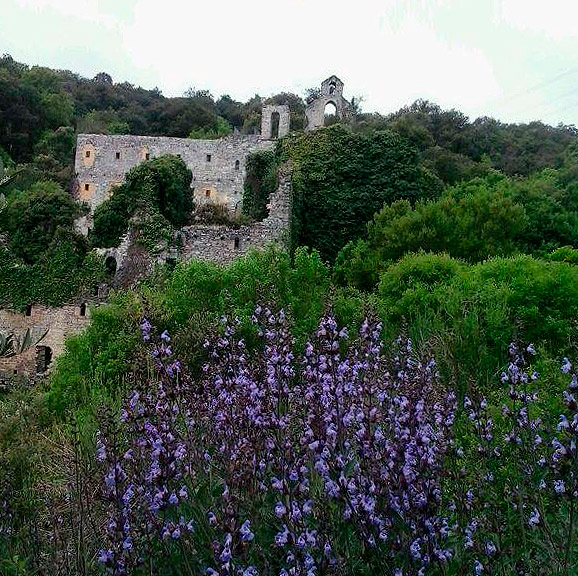 Jardín Botánico de Santa Catalina
El Jardín Botánico de Santa Catalina es un paraíso natural de impresionante belleza ubicado sobre las ruinas de un convento del mismo nombre en el pueblo de Trespuentes, en Iruña de Oca, con más de 1200 especies botánicas del mundo.
a 42Km.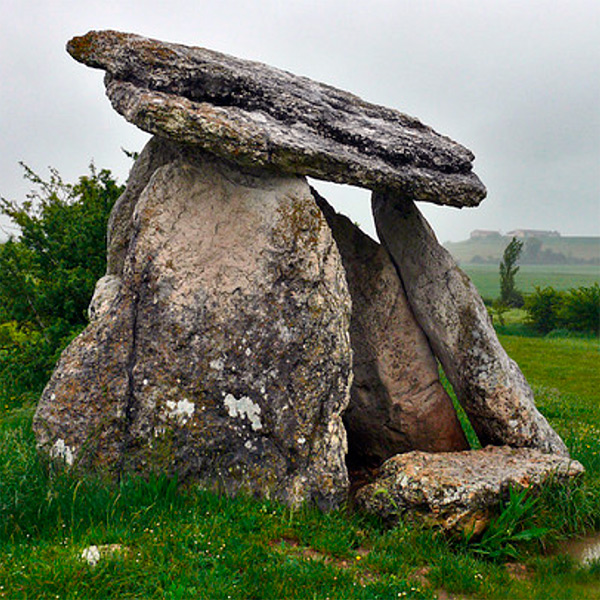 Dolmenes en Cuadrilla Salvatierra
Los dólmenes de La Llanada alavesa oriental, es decir de la Cuadrilla de Salvatierra, son dos de los más fotogénicos de Euskadi, además se encuentran perfectamente señalizados e indicados con letreros.
a 44Km.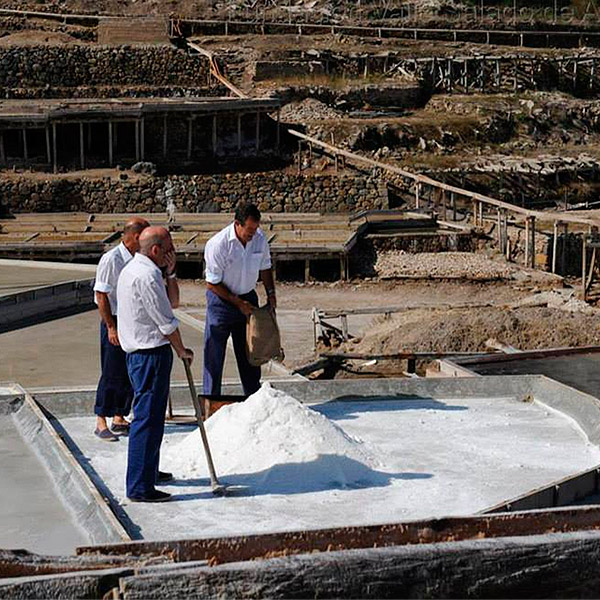 Salinas de Añana y el Valle Salado
Solo fue necesario un manantial de agua salada para que el ingenio humano alumbrara un lugar singular como pocos. Nunca unas terrazas habían despertado tanta curiosidad.
a 46Km.

Alto Valle del Cidacos - Arnedillo
The High Valley Cidacos is in the town of Arnedillo, its finest expression. In this beautiful place we can enjoy breathtaking landscapes and world famous hot springs. The history, with its castle and monuments and ...
a 50Km.

Ruta de las Icnitas
In the municipality term of Enciso there are cataloged 1,400 dinosaur footprints. It is the starting point for visiting the footprints, from the Paleontological Center. In the track from Enciso to Navalsaz there are total of 7 sites that linked…
a 50Km.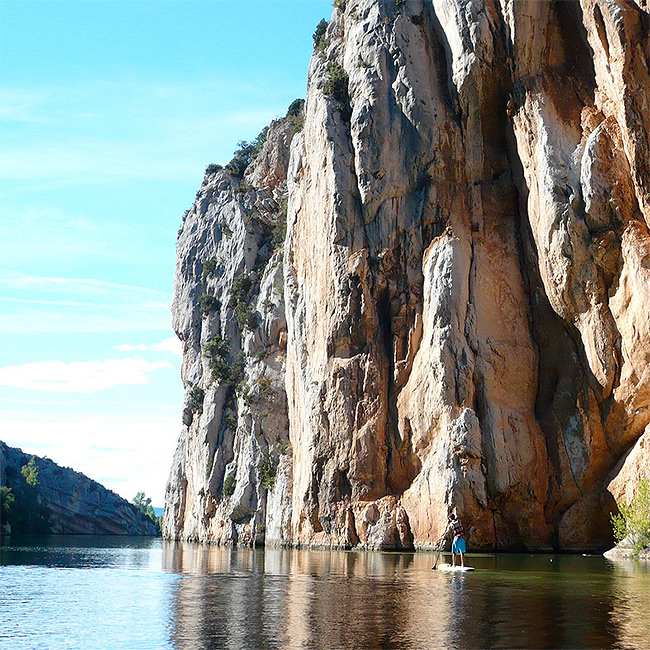 Aventura Sobrón
On board a canoe, suspended several feet high, with a compass ... There are so many ways to enjoy nature and have the fall colors. Banks of the reservoir of Sobrón can be checked both statements in the Adventure Park...
a 51Km.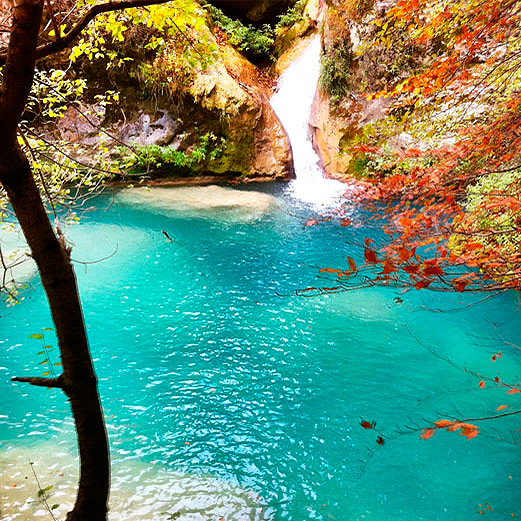 Nacedero del río Urederra
The spring where the river Urederra is born is of hidden dream on the feet of the walls of the limestone walls of Urbasa, the symbol of the forest from Navarre. It is a truly wonder, and also is a Natural Reserve with waterfalls.
a 51Km.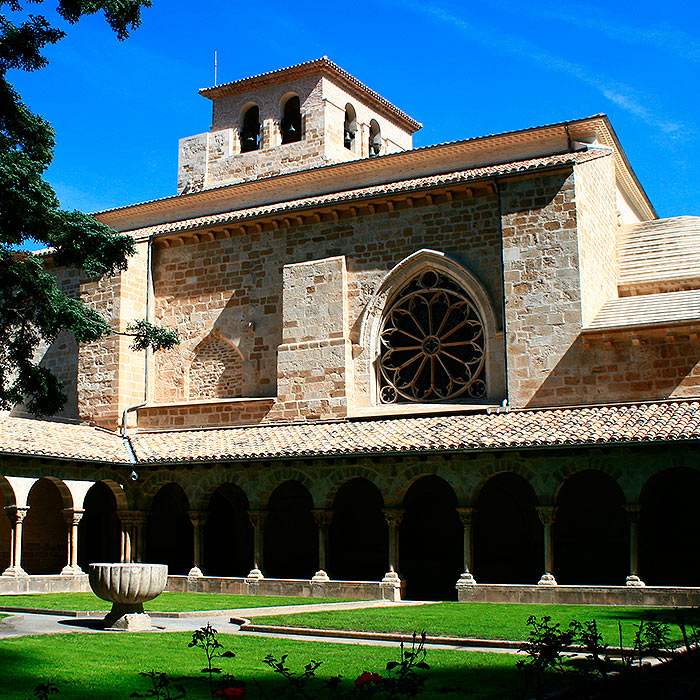 Claustro de Estella-Lizarra
El claustro románico es uno de los enclaves más visitados de Estella-Lizarra, templo con una portada también románica con lóbulos. Otros templos románicos son las iglesias del Santo Sepulcro y San Miguel. Ciudad clave del Camino de Santiago.
a 51Km.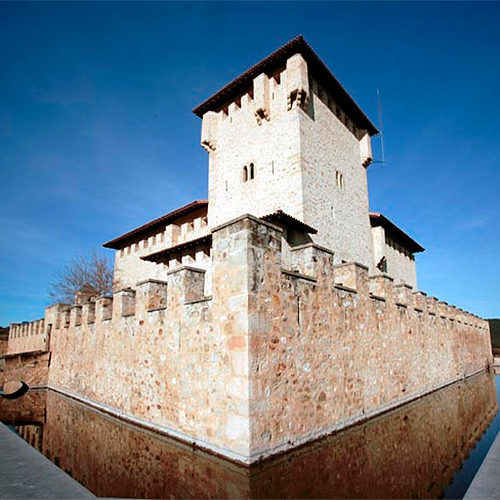 Torre de los Varona
This is one of the best preserved castles in Euskadi and hides behind its walls, a bounty of Romanticism and history. For its appearance, it seems that the fourteenth century happened yesterday.
a 53Km.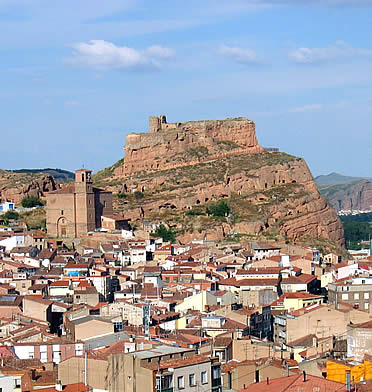 Arnedo
Situado en la comarca de la Rioja Baja. Está bañada por el río Cidacos (afluente del Ebro). La economía depende fundamentalmente de la industria del calzado. Su nombre proviene posiblemente del latín Arenetum, colectivo de arena.
a 53Km.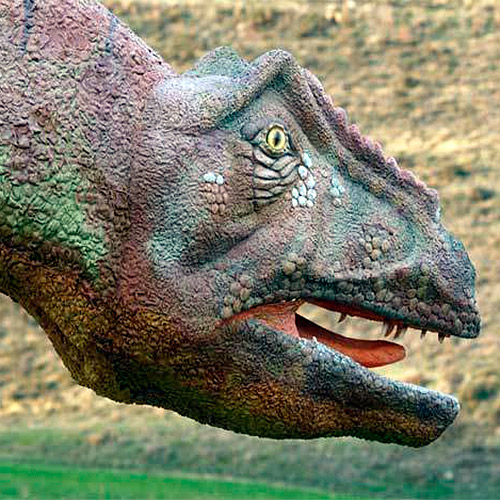 Ruta de las Icnitas
Stepping through the same places that the dinosaurs did hundreds of millions of years ago, is possible in the Highlands of Soria. There is a Paleontological Room in Villar del Río and huge sculptures of various dinosaurs in various localities.
a 55Km.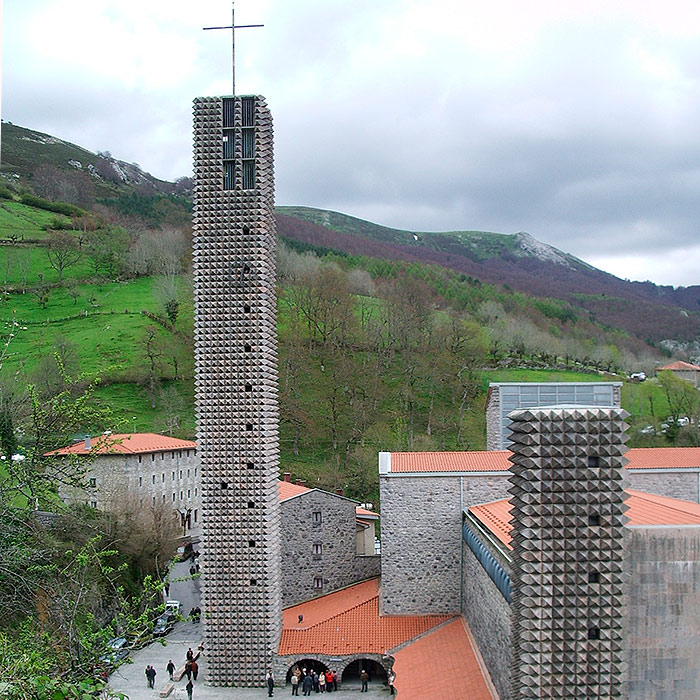 Santuario de Arantzazu
El arte vasco de vanguardia, el hecho religioso y un entorno natural sobrecogedor se dan la mano en el santuario de Arantzazu. Situado en Oñate, donde se venera a la Virgen de Aránzazu, patrona de esta provincia.
a 55Km.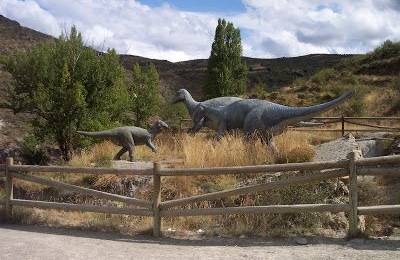 Yacimiento de Navalsaz
Contiene 138 huellas, la mayoría ornitópodas. Aquí se encuentra uno de los rastros de Iguanodon más grandes de La Rioja.
a 56Km.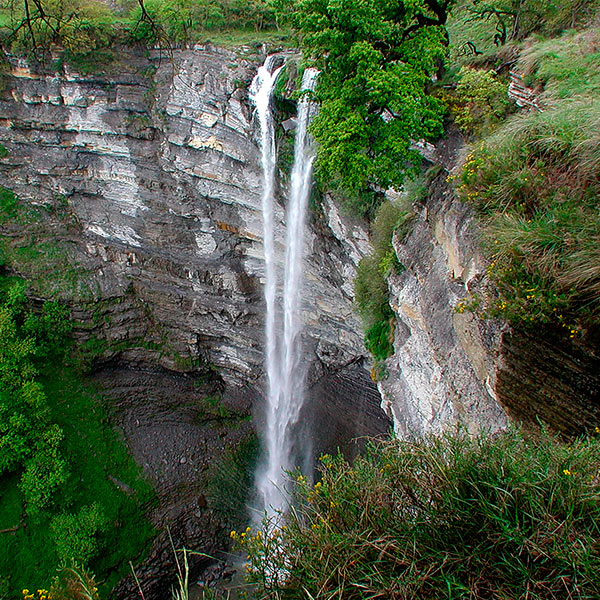 Cañón de Delika y Gujuli
Among beech and land populated by wolves, the riverbed fights to make a way. It gets it and it shines a unique spectacle in Euskadi. It is a waterfall of more than 100 meters high which can be seen from a spectacular...
a 59Km.

Catedral de Calahorra
Calahorra, the old Calagurris, was one of the most important cities of the Roman Empire in Spain.
The cathedral is located on the banks of river Cidacos, guarded by the Episcopal Palace and the Walk of balls. It is a twelfth-century Romanesque building.
a 60Km.

Los Picuezos - Autol
We cannot mention Autol, without reference to the natural monument that signifies the true symbol of the city -The Picuezos- o Picueza and Picuezo as they are also known. The wind, water and erosion, in a work of centuries,..
01340 - ELCIEGO (Álava) - 945.606.440 - 626.217.157 - info
- Data managed and maintained by the owner - Information provided by ©
RuralesData.com
@turismorurallacueva.com -